Frustration over the rising price of textbooks has reached a boiling point that has taken this issue from college campuses to state legislatures all over the country.
Search the hashtag #textbookbroke on Twitter and you'll see the frustration building in real time.
Students have used words like "scam" and "racket" when campus libraries ask them to describe how textbook prices affect them.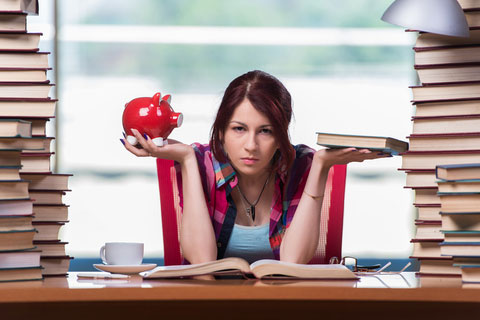 Image © Elnur | Dreamstime.com
A Texas A&M professor said that in his Geology 101 class, half the students wouldn't buy the book, while others would delay the purchase for weeks.
"This always led to lower grades," he said in a video posted on Twitter.
At Harvard, discussions about including the cost of course materials in routine course evaluations get at the heart of how this issue impacts student decisions:
"If you're on the fence about a course, you could pick a less expensive course," reads a quote in the Harvard Crimson from a member of the school's class of 2020.
Is this the road we take to better learning in the 21st century? Course selection based on the price of a book?
Let's hope not.
Politicians pay attention
The problem has filtered up to the halls of state legislatures around the country.
In Ohio, Gov. John Kasich's budget requires public colleges to cover the cost of textbooks over $300 per student next fall, meaning many institutions will be looking for less expensive course materials.
Washington, California, Florida and many other states, and even the U.S. Congress, have discussed or adopted measures to expand support for Open Educational Resources (OER), free educational materials that could help cut costs for course materials.
If this many people are talking about the same problem, then it's clearly time for a new solution.
But in tackling textbook costs in isolation, we risk missing the bigger issue at play.
It's not just about costs.
There's a disconnect between the educational goals and learning needs of today's students and the traditional methods we're still using to deliver knowledge.
Read: The Case for Better Learning
We are living in an age where we are constantly optimizing the delivery of everything, from groceries to entertainment to news.
Most of these optimizations mean replacing costly, inefficient old systems with highly customized, cost-effective innovations.
It's time for that same optimization to happen in education.
Wanted: More relevant, engaging learning
The frustration over textbook costs isn't just a cry for more affordable course materials.
Many students have complained about shelling out hundreds of dollars for textbooks that are then only sparingly used in their actual coursework.
In other words, the textbooks they are buying aren't even relevant to what they are learning.
And after these students graduate from their programs of study, many are finding they don't have the skill set needed to succeed in the modern workplace.
So the problem at hand is really much bigger than just the cost of textbooks.
Americans are in the middle of a debate over how to get a better return on the increasingly high investment they make in higher education.
An opportunity to improve
Once we understand that textbooks are only a small part of a bigger issue, we can go back to this foundational piece of the education puzzle to start working toward a solution.
In schools and systems that are pursuing OER as a way to bring down costs, what does that adoption look like?
As reported here, today's faculty are so busy that they need a clear road map to the effective implementation of open resources.
They need a partner who has thought about questions like:
What's the best way to present course material to students in a digital format?

How can that material be presented in a way that is engaging and interactive?

How can teachers keep tabs on how their students are progressing through the material, and how the actual content is performing?

How can teachers take advantage of one of the biggest benefits of OER: The permission it gives individual teachers to re-mix, re-order and augment this material to meet their specific educational goals?

How can we build course materials to adapt to the different learning styles of individual students?
These kinds of questions are what start moving us toward a more affordable, accessible, engaging learning experience.
These questions don't apply only to OER, either.
They're foundational to how anyone interested in delivering knowledge today needs to think.
These questions are just as relevant in a K-12 classroom as they are in a college lecture hall or a corporate training room.
These are the very questions that define our work every day at Odigia.
It's time to innovate.
At Odigia, we are not interested in putting the same old one-size-fits-all educational approach into a digital package.
We are convinced that learning is the most important skill for success in the modern world, and our educational technology is built to help everybody get better at it.
We are just as concerned with what students learn as we are with how students learn–and how that learning helps them to create, build, problem-solve, collaborate, innovate, and lead in the future.
Because many of the problems today's students will need to solve and the jobs they'll be hired to do don't even exist yet.
So learning will be a critical need for the rest of their lives.
We think that when you start with this understanding as your fundamental approach, you'll see a lot of improvements that can be made to the way we deliver knowledge today.
And if we start making those improvements, we'll be solving a lot more problems than just helping people find cheaper textbooks.