March 27-31, 2017, is Open Education Week around the world.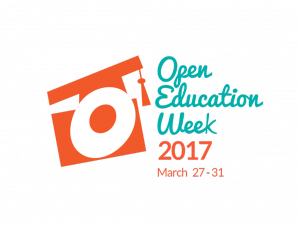 Open Education is a movement that reflects the current need to transform the way we deliver knowledge in the 21st century.
As we've written previously, many states and institutions are setting goals to adopt or make greater use of open educational resources (OER) as a way to bring down the cost of textbooks that can be a barrier to many of today's learners.
As more institutions adopt OER, it's important for instructors and administrators to implement these resources with tools that allow them to make the most of the opportunities that OER offer.
We built Odigia to be a learning platform for the 21st century. That means that whether you are using OER, licensed content or customizing your own course, Odigia provides the tools you need to make sure your teaching is optimized for the needs of today's learners.
As we mark Open Education Week, we offer these tips for institutions and teachers adopting OER in the classroom:
1. Don't put a 21st-century educational tool in a 20th-century format.
Yes, you can easily offer OER content as a PDF. But guess what? Many students find a traditional, expensive textbook more useful than a PDF.
To make the most of OER, it should be presented within a platform that truly engages students, meaning that they are interested, invested and motivated to keep moving through the content.
Odigia does this by:
breaking down concepts into chunks that are easily digested within 5-15-minute study sessions;

building dynamic discussion forums that are easily accessed without leaving the course content;

using features based on game-theory to help students see their progress and motivate them to keep up with the work; and

enabling students to make connections between what they are learning and what is happening in the world today, allowing them to apply learning and help build important critical-thinking and communication skills.
2. Modify, modify, modify.
A major benefit  of open educational resources is the permission they afford instructors to modify, re-mix and enhance course materials.
We built the in-line editing capabilities within Odigia with today's busy instructors in mind. Odigia provides all the tools you need to create and edit amazing content in one place.
And there's no need for an all-day training session to figure it out. If you can use a word processor, you can use Odigia.
3. Be critical of your content. Identify and fix what isn't working.
Analytics should be part of any OER adoption, so that instructors can understand how their content is performing with students.
In Odigia, analytics are powered by formative assessments at the end of every concept. Instructors can easily see how the class as a whole is performing, but can also drill down to see where individual students' strengths and weaknesses lie.
This opens up exciting possibilities, like assigning study partners based on their respective areas of strength, or making changes to content long before the final exam. All of this drives better learning outcomes for students.
4. Educate students for the world that awaits them.
Subject-matter mastery isn't enough for today's students. They'll enter a workforce that is constantly inventing new jobs and new problems to solve.
Today's employers are looking for creative individuals with strong communication, collaboration, critical-thinking and problem-solving skills.
At Odigia, we believe we need to transform the way we educate students to help them develop these skills.
That's why we place such an emphasis on building an immersive, interactive learning experience where students can engage with content, seamlessly discuss concepts with classmates and make connections with other material.
With Odigia, students have a degree of control over the learning experience that just doesn't exist with a traditional textbook, or with many learning management systems. This helps adapt course content for different learning styles, and it also teaches students about problem solving and critical thinking.
After completing a course within Odigia, it is our hope that students have not only absorbed the content, but that they've also acquired new learning and thinking skills that will serve them well as they progress in their careers.
The best way to understand Odigia is to experience it for yourself.
Click here to schedule a demo with our team.
Together, we can transform education.