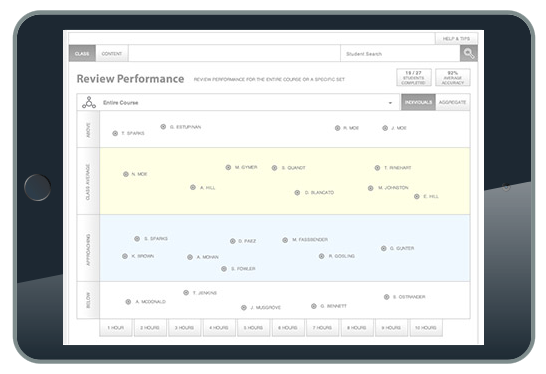 Analytics in Odigia
Student engagement data empowers educators with precise ways to modify instruction, pinpoint areas of weakness, and increase collaboration. Odigia's analytics provide the tools to create best practices in the classroom, and keep students accountable for their learning.
Powered by formative assessment
Analytics in Odigia are driven by formative assessments at the end of each concept. Data can be visualized based on course, set, and concept level performance, allowing for both at-a-glance class performance, as well as pinpointed areas of weakness.
Fosters effective peer to peer collaboration
Proactively identify each student's areas of strengths and weaknesses, and match them for effective peer-to-peer collaboration. Odigia provides a snapshot of class performance, measured alongside individual time spent engaged with the material, and is so easy you don't even need a statistics degree to interpret!
Measures learner engagement
Odigia captures a wide variety of data to illustrate a clear and precise picture of where learners are spending their time, how they perform, and how they engage with course content. This data helps to hold students accountable for their learning, and provides educators with the information they need to guide success.
Drives continuous improvement of material
Data is most valuable when it demonstrates a path to action. Odigia provides a variety of robust analytics meant to pinpoint areas where course material may be unclear or need improvement. Armed with this crucial knowledge, educators are empowered to make sure that all course content is geared toward maximizing successful learner outcomes.